New Jersey Sports Bettors Now Denied Access To Major Offshore Sportsbook Promoter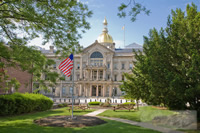 TRENTON, N.J. – Before legal sports betting came to the Garden State, sports bettors would often turn to the OddsShark website as a means to learn about offshore sportsbooks and essentially access them. Those days have come to an end as New Jersey Attorney General Anthony Strangia banned the site from operating in the state.
In a letter issued last week to OddsShark Executive Kostakis Konstantinou, Strangia wrote: "We request that you immediately remove any online gambling links that are not authorized under federal law or under the law of any state."
The letter then went on to say "The State of New Jersey reserves the right to pursue appropriate civil or criminal sanction against you if you fail to take the requested actions."
As of now, anyone inside of the borders of N.J. that tries to access the site will see the words "ACCESS DENIED" right on their screen. This marks the first major offshore sportsbook promotor to be banned in the state, but judging by the state's history, it may not be the last.
What Were The Odds For A Shutdown?
Banning the website has been a long task for N.J. state officials. The process started almost four years ago when David Rebuck, Director of the Division of Gaming Enforcement (DGE), issued a formal advisory bulletin concerning "Internet Gaming Affiliates/Marketing on Behalf of Illegal Online Gaming Sites."
"It is clear that those illegal online gaming sites who accept wagers from players in New Jersey pose a significant threat to the regulation of lawful gaming," Rebuck wrote.
In that same year, the DGE issued letters to several offshore sportsbook affiliates, but none of them stopped the websites from reaching residents in N.J.
The state now has several legal onsite and online sports gambling options in which tax revenue can be collected from them. The shutdown of OddsShark will essentially work to keep players solely focused on their local options and keep money from sports betting in New Jersey wagered in-state.
Best New Jersey Sports Betting Sites - 100% Trusted + Safe