New Jersey Sports Betting Bill Tracker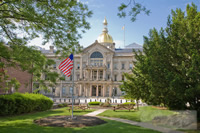 The conflict over legal New Jersey sports betting is what led to a nationwide change in the sports gambling industry. The state began its journey to allow sports gambling in 2009, not realizing that there would be years of legal battles to ensue. Each time that the state attempted to pass sports betting legislation, five sports leagues – the NBA, MLB, NFL, NHL, and NCAA – took legal action. At this point, the Professional and Amateur Sports Protection Act of 1992 (PASPA) limited sports betting to just four states – Nevada, Delaware, Oregon, and Montana. After a 2012 loss in District Court, New Jersey went on to have two more defeats in the Third Circuit Court of Appeals. Finally, in 2017 the state asked to be granted a writ of certiorari from the United States Supreme Court. Their request was granted, and the Court agreed to hear Murphy vs. NCAA on July 5th, 2017.
By December, the Court had heard oral arguments from both New Jersey and the opposing sports leagues. While the sports leagues argued that the state was in violation of the ban imposed by PASPA, New Jersey contested that the ban itself violated the Tenth Amendment rights of each state. SCOTUS ultimately ruled in New Jersey's favor on May 14th, 2018, voting 6-3 to strike down PASPA and end the 25-year federal prohibition.
Though officials had written several laws prior to this point, lawmakers quickly introduced an updated New Jersey sports betting bill. On June 11th, 2018, Governor Phil Murphy signed the bill into law and officially legalized sports betting in New Jersey. Though the battle has been won and NJ gambling laws are comprehensive, it is still possible for changes to happen in the future.
You can use our New Jersey sports betting bill tracker to learn about the current laws and any upcoming legislative developments.
Current New Jersey Sports Betting Laws
Excerpts: "AN ACT allowing wagering at casinos and racetracks on the results of certain professional or collegiate sports or athletic events, supplementing Title 5 of the Revised Statutes, amending and repealing various parts of the statutory law."
C.5:12A-10.1 "'operator'" means a casino or a racetrack which has elected to operate a sports pool… and any entity with whom a casino or racetrack licensed to operate a sports pool contracts to operate a sports pool or online sports pool, including an Internet sports pool operator, on its behalf; "
C.5:12A-11.e "An operator shall accept wagers on sports events only from persons physically present in the sports wagering lounge; through self-service wagering machines… or through an online sports pool. A person placing a wager on a sports event shall be at least 21 years of age."
Summary: Authorizes casinos and racetracks to accept sports wagers from persons age 21 and older. Gambling on professional and collegiate sports is permitted, though college sporting events that feature local teams or take place in New Jersey are prohibited. Casinos are taxed at a rate of 8.5 percent on sports bets plus a 1.25 percent tax for marketing. Legalizes online sports wagering with operators taxed at 13 percent.
6/4/2018

Introduced, Referred to Assembly Tourism, Gaming, and the Arts Committee

6/4/2018

Reported and Referred to Assembly Appropriations Committee

6/4/2018

Reported out of Assembly Comm. with Amendments, 2nd Reading

6/7/2018

Assembly Floor Amendment Passed (Houghtaling)

6/7/2018

Emergency Resolution (Houghtaling) (71-0-0)

6/7/2018

Motion To Aa (Bucco)

6/7/2018

Motion To Table (Johnson) (46-24-0)

6/7/2018

Passed by the Assembly (73-0-0)

6/7/2018

Received in the Senate without Reference, 2nd Reading

6/7/2018

Substituted for S2602 (2R)

6/7/2018

Emergency Resolution (37-0) (Van Drew)

6/7/2018

Passed Senate (Passed Both Houses) (37-0)

6/11/2018

Approved P.L.2018, c.33.
Best New Jersey Sports Betting Sites - 100% Trusted + Safe
New Jersey Sports Betting Bill FAQs
Where Can I Bet On Sports In New Jersey?
New Jersey sports betting laws permit every casino and racetrack in the state to apply for a sports wagering license. There are 23 gaming facilities in the state, though not every operator has started to accept sports wagers just yet. Below is a current list of the casinos with sportsbooks in New Jersey:
The Meadowlands
Borgata
Bally's
Caesars
Golden Nugget
Hard Rock AC
Harrah's
Monmouth Park
Ocean Resort Casino
Resorts AC
Tropicana
At What Age Can I Bet On Sports In New Jersey?
The legal age to bet on sports in New Jersey is 21 years old. This general gambling age applies to all forms of casino gaming, which means you must be at least 21 to visit a local sportsbook or legal New Jersey sports betting site.
Is Mobile Sports Betting Legal In New Jersey?
Yes, online and mobile sports betting are both legal in New Jersey. Many N.J. sportsbooks have partnered with tech suppliers to provide their digital sports betting platforms. For example, Tropicana, Ocean Resort Casino, and Monmouth Park have sportsbooks operated by gaming giant William Hill. Of course, familiar offshore sites such as BetOnline and SportsBetting are also still accepting NJ sports bettors for mobile betting as well.
Is It Legal To Use Offshore Sportsbooks In New Jersey?
While offshore sportsbooks such as BetOnline and MyBookie are not licensed by the state for sports betting in New Jersey, there are currently no laws that prohibit sports bettors from visiting these sites. Lawmakers have not taken any initiative at this point to prevent residents from continuing to use these sites that typically have more favorable odds, bigger bonuses, and other advantages. While there are a bevy of state-licensed sports betting sites in New Jersey, many US sports bettors still prefer the offshore sites that have been around for decades.