Atlantic City Sportsbooks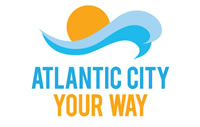 After a more than seven-year push for legal sports betting, New Jersey finally won the ability to operate sportsbooks in Atlantic City. While some casinos were ready to open sportsbooks on day one, others in the area took their time in order to bring you absolute perfection. Either way, AC is one of the gambling capitals of the US and is the second largest market behind Las Vegas. That being said, there is definitely no shortage of options or locations to wager on sports here.
On this page, we'll take a look at what's currently legal in Atlantic City sportsbooks, any restrictions that are present with betting in New Jersey, and what to expect from the best Atlantic City sportsbooks. Our reviews of the operators in AC include their contact information as well as an overview of the ins and outs of the books from their seating options, hours of operation, and betting board displays. The all-encompassing review may be lengthy; however, it will ensure that you can find exactly what you are looking for when gambling in AC.
Best New Jersey Sports Betting Sites - 100% Trusted + Safe
Is Sports Betting Currently Legal In Atlantic City
After the long legal battle that New Jersey lawmakers fought with both the NCAA and pro leagues, sports betting can finally be actualized in the Garden State. And where else would you be able to find sports gambling in NJ than at Atlantic City Sportsbooks? New Jersey's sports betting laws are very encompassing. Legally, there are only three types of gambling prohibited. First, Atlantic City Sportsbooks cannot offer action on high school games, so all you Don Bosco fans are out of luck.
Second, Atlantic City Sportsbooks cannot offer action on eSports. This is when you wager on people who are playing in large video game tournaments, for games like League of Legends and Fortnite. But more notably, sportsbooks in Atlantic City will not be able to cover any New Jersey-based college teams or any college sporting events taking place within the state.
Other than that, all other forms of sports betting in New Jersey is pretty much fair game. You can bet in-person at any one of the Atlantic City Sportsbooks or by using their mobile app. Keep in mind that mobile betting is not allowed outside of state lines per federal laws so you will have to stay in the Garden State to place your wagers. Also, accounts must be set up in one of the AC casinos so you can verify your personal information.
How Old Do I Have To Be To Bet At Atlantic City Sportsbooks?
Now that sports betting is legal in Atlantic City, everyone is hoping to get a piece of the action. However, the legal age to bet on sports in New Jersey is 21. The casinos will generally not even let you on the casino floor if you are not of age or will ask for ID to prove that you are of age. Though online, offshore sportsbooks allow for players at age 18, they are going to ask you to adhere to local gambling ages since you'll be collecting your winnings in your home state. If it is discovered that you have gambled underage, not only will you be banned from any further sports betting at that online sportsbook, you'll also have to forfeit your hard-earned winnings and quite possibly pay an additional fine for violating state laws. This holds true for East Rutherford Sportsbooks as well.
Best Sportsbooks in Atlantic City
It can be hard finding Atlantic City's best sportsbook on your own – which is why we're here to help. We have reviewed these venues for their lounge benefits, reward programs, and overall betting options. That being said, the battle to determine the best was not easy, as the places to wager in AC are all considered top-notch. Therefore, we have chosen to review a group of them in no particular order.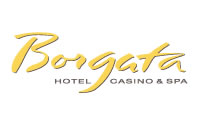 Borgata Casino

Address:

1 Borgata Way, Borgata Hotel, Casino & Spa, Atlantic City, NJ 08401

Phone:

(609) 317-1000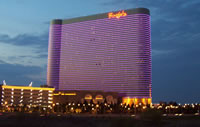 Opened on June 14th, the Borgata was quick to the punch and rather than waiting for a free-standing facility dedicated solely to sports betting, the Borgata decided to open their Atlantic City Sportsbook right away. It is housed in the same venue as the racebook featuring ten betting windows and a video wall to view sporting events from all around the world. They boast 100 comfortable seats with individual screens and a countertop area for your notes.
MGM Resorts International is the parent company of the Borgata. This company announced in 2017 that they would begin a $7 million expansion to their Atlantic City location in order to accommodate the foot-traffic for sports betting in New Jersey. The Borgata is already the most successful casino in AC, so it should come as no surprise that they were quick to become one of the best Atlantic City sportsbooks.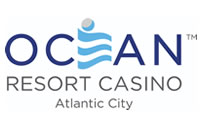 Ocean Resort Casino

Address:

500 Boardwalk Atlantic City, NJ 08401

Phone:

866-50-OCEAN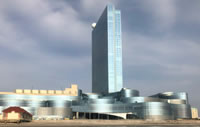 Formerly known as the Revel Casino, Oceans Resorts Casino officially launched the second Atlantic City Sportsbook during its grand opening on June 28th, 2018. Thanks to the fact that it was under construction when PASPA was struck down, Ocean Resort was able to construct a state-of-the-art book and lounge in the heart of its main casino floor. The circular design of the sports betting area enables it to be reached and used from every part of the casino.
Ocean Resort partnered with William Hill US, the sports betting tycoon that became the first operator in the state at Monmouth Park. This casino is directly on the Boardwalk, making it a great place for anyone to stop in. Ocean Resort could knock Borgata down a peg or two to become the best Atlantic City sportsbook but again with so many options, it's hard to make that assessment.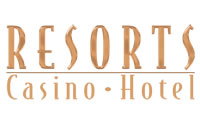 Resorts Casino Hotel

Address:

1133 Boardwalk, Atlantic City, NJ 08401

Phone:

(800) 334-6378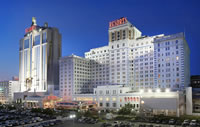 Not to be confused with Ocean Resort, the Resorts Casino hotel is located in Uptown Atlantic City. This was the first casino hotel to open outside of Nevada in the United States in 1978 and has been number one in offering new and exciting sports betting options to New Jersey residents ever since. Resorts Casino has partnered with DFS tycoon DraftKings in order to offer sports betting in New Jersey at their iGaming Lounge.
The lounge consists of 5,000 square feet with ultra HD LED TVs. Betting is made easy here with 16 betting kiosks and 5 betting windows with cashiers ready to take your action. The big timers can enter in the VIP area but you are treated like royalty even without doing so as live odds are presented to everyone covering their extensive list of sporting events.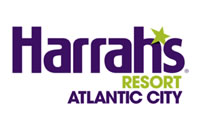 Harrah's Atlantic City

Address:

777 Harrah's Blvd. Atlantic City, NJ 08401

Phone:

609-441-5000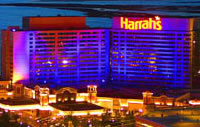 Owned by Caesars Entertainment, Harrah's Atlantic City sportsbook went live on August 1, 2018. The Book is the name of the lounge and it gives you the ability to relax in comfort with their stadium seating. Each seat has its own individual table for you to place your notes, drink or food. Surrounding the seats is 5 large screen TVs that always have live action on them. Of course, food and beverage options are available as well.
Located inside the central casino section just next to the familiar Total Rewards counter, NJ residents and visiting sports bettors can wager at Harrah's from 11:00 AM to 11:30 PM on Monday through Thursday, with weekend hours from 11:00 AM to midnight. It stays open for sports betting in New Jersey should an event run longer than anticipated, especially in the heart of the NCAA Tournament and NFL season.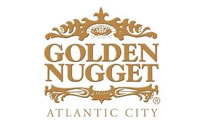 Golden Nugget Sportsbook

Address:

600 Huron Ave, Atlantic City, NJ 08401

Phone:

(609) 441-2000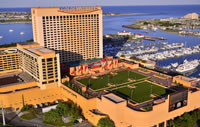 The Golden Nugget is currently the number one New Jersey online casino – so you can bet that they're also going to be gunning for the bests land-based one as well. Due to an amendment that was made to New Jersey's sports betting law at the last minute, the Golden Nugget was allowed to open a lounge. Unfortunately for all of you basketball fans, there will not be any action on the NBA in this casino due to the fact that Rockets Owner, Tilman Fertitta, also owns the Golden Nugget. To keep the integrity of the sports and betting in line, the state prohibited any bets to be taken on any team, not just the Rockets.
This book may not be the most high-end but that doesn't mean they don't have a lot to offer. With seating for over 100 and 5 video walls, you are sure to find everything you are looking for. The venue boasts more than 50 TVs and even allows for boosted parlays and live in-play betting. Of course, there are drink and dining options available as well as multiple areas that have either stadium seating or high tops.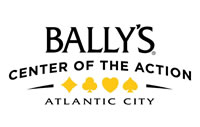 Bally's Atlantic City

Address:

1900 Pacific Ave. Atlantic City, NJ 08401

Phone:

609-340-2000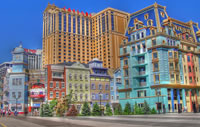 Bally's Atlantic City, which is a Caesars property, opened its sportsbook to the public on August 1, 2018. This full-fledged sportsbook offers wagers on countless US-based and international sports. Named The Book at Bally's Wild Wild West, there is a snack bar as well as beverage service to ensure you don't miss any action of the games.
The stadium lounge chairs and TV screens are displayed at your convenience at the venue also boasts 27 high top chairs and tables. Just remember that because the Bally's sportsbook is in the Wild Wild West casino, you'll need to park accordingly (with the parking garage serving Caesars AC's Temple Tower, on the third floor, being your closest, most convenient option).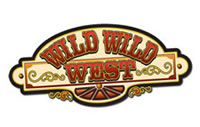 Wild Wild West Sportsbook

Address:

1900 Pacific Ave. Atlantic City, NJ 08401

Phone:

609-340-2000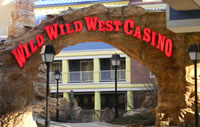 The Wild Wild West sportsbook is actually the Bally's sportsbook, as the two venues are technically one in the same. However, because of their different themes and entry-points on the property – plus due to the fact that they're both in separate buildings – many locals and AC regulars view them as different venues.
Nevertheless, the Wild Wild West sportsbook (or Bally's sportsbook) is located at the Wild Wild West itself, albeit only temporarily, while a bigger sports betting lounge is being built out on the main site. Right now, though, the book is 100% operational, and you can wager on anything you like at the locale. If sports betting is your main goal at the WWW, of course, you should be sure to park accordingly. The third level of the parking garage outside the Caesars Temple Tower is your best bet.