Horse Racing Betting In New Jersey
The Garden State is a very pro-gambling state and that includes the ability to bet on horse races in New Jersey. This style of gambling is better known as pari-mutuel wagering, which is a style that pays its winners out of a communal pool. This is the only way for people to bet on horse racing in New Jersey. Betting on the ponies has been available in the state since the 1800s and legislators have no desire to remove this hobby from their residents and voters.
If you're not familiar with the aspects of pari-mutuel wagering or you'd like to learn a little more, this page can act as a guide. It will go over the horse racing betting laws in New Jersey, while also providing useful information on racetrack locations and pari-mutuel wagering options. For those who are interested in online horse racing betting websites, we include reviews of two of our favorite online racebooks. Everything you need to know about horse racing betting in New Jersey is right here on this page.

Can I Legally Bet On Horse Racing In New Jersey?
Residents of the state of New Jersey can legally bet on horse racing events held both in- and out-of-state. According to New Jersey Statutes Title 5, Chapter 5, all forms of pari-mutuel wagering – including off-track betting and simulcast wagering – are completely within the purview of state law. There are no federal laws that prohibit New Jersey residents from betting on horses, either.
Residents will also be happy to note that using an online horse racing betting site is also legal. New Jersey, like many states, has not seen fit to pass any laws that have to do with betting on horse racing online. For those interested in using an online horse racing betting site rather than traveling to a local track, we've included recommendations on a couple of our favorite legal online horse betting sites at the bottom of this page.
Where Can I Bet On The Triple Crown In New Jersey?
With two of the three Triple Crown racetracks within driving distance, many New Jersey residents who are fans of horse racing should be excited to know that they can now wager on it as well. Licensed off-track betting venues and simulcast locations will have odds on all three legs of the famous competition.
The three legs of the Triple Crown take place on the first Saturday in May, the third Saturday in May, and the third Saturday after that, either the first or second week in June. First up is the Kentucky Derby, in Louisville, followed by the Preakness Stakes, in Baltimore, and it ends with the Belmont Stakes, in Elmont. There have only been 13 Triple Crown winners in the series' entire history but two of those have happened recently after a nearly 40-year lull.
What Wagering Options Do I Have For Betting On The Horses?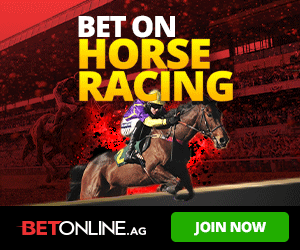 In pari-mutuel betting, wagers can fall into one of two categories. You have your "straight" bets and your "exotic" wagers. Straight bets include win, place, or show bets. This means you can choose an outright winner (win), bet on two horses to come in first or second place (place), or three horses to finish third, second, and first (show). It doesn't matter what order the horses finish in, just that they are one of the first three horses to finish the race. You can easily make a profit off of these bets, but payouts on straight bets are not as good as the payouts on exotic wagers.
Exotic wagers consist of bets that require bettors to choose the exact finishing order of up to four horses in a single race. There are exactas (first two horses), trifectas (first three), and Superfectas (first four). If even one horse is out of order on your bet slip, your entire wager is considered a loss. That's why the payouts are so much better on exotic wagers – there's a much bigger chance of failure. But how does that saying go again? High risk, high reward? One lucky fan at the Kentucky Derby hit a $120 superfecta wager, profiting them over $28,000, so don't consider it impossible.
Are There Any Racetracks In New Jersey?
There are actually a few racetracks for sports betting in New Jersey. These locations can be found along the coast and are registered and licensed pari-mutuel betting facilities that are overseen by the New Jersey Racing Commission. You can legally and safely bet on your favorite races here and these tracks will also host simulcast racing events for residents to bet on as well. But keep in mind, the options are limited compared to the number of races you can wager on at an online horse racing betting site. The tracks in New Jersey are:
Freehold Raceway (the oldest track in the United States)
Monmouth Park
Atlantic City Race Course
Meadowlands Racing and Entertainment
Best Online Horse Racing Betting Websites
New Jersey doesn't have any restrictions in place when it comes to using online gaming sites. With hundreds of different horse racing betting websites right at the tips of their fingers, New Jersey residents may find it hard to find the racebooks that offer them everything they want. In order to help with that, we've gone ahead and reviewed two of the most outstanding online horse racing betting sites.
5Dimes - Greatest Horse Betting Website For Jersey

When you're looking for an online horse racing betting site, one of the big things you're going to look for is variety. Variety of wagering options, bonuses, and when you join 5Dimes Racebook, you actually have a variety of accounts to choose from.
At 5Dimes, you can choose between a rebate racebook, which awards its users up to a 9% daily rebate. This account doesn't enforce a minimum wager amount to receive the rebate, and there is no cap on how much you get back. Their second account option adds 10% to your winning "win" or any successful exotic wager.
Once you've chosen the account you want, you have access to racetracks around the world. a title="5Dimes Racebook" href="/links/sports/5dimes.html" rel="nofollow noopener">5Dimes includes a racing calendar which allows you to track all of the events taking place, giving you the chance to plan out your bets. They also include information on the racetracks such as the course conditions, the length of the track, and weather conditions, so that you know which horse will be more successful. 5Dimes has more wagering opportunities than any other online horse racing betting site.
SportsBetting - The Trusted Online Horse Racing Site

SportsBetting online racebook is one of the most inclusive online horse betting websites around. Most sites will gear their information towards newcomers or experts. But SportsBetting makes sure that both sets of bettors are welcome.
For the newcomers, SportsBetting racebook has one of the largest "how to bet on horse racing" sections around. There, you'll learn all about the straight and exotic wagers that are a part of pari-mutuel wagering. You also learn betting terms and can familiarize yourself with payouts and other useful tidbits. They even have a free horse pick section, which gives you betting tips and strategies. The site even makes sure you aren't upset if you lose your first bet on the ponies and will refund $25 should you lose your first bet in their racebook.
You might think that they save all the good stuff for the newbies, but SportsBetting has a few great features for their more professional bettors as well. This racebook includes a blog, which allows you to read up on every race event that's gone on in the season, including track details and performance reviews. They also have a horse matchup section, giving you all of the information on how a horse has performed in regards to its betting odds. The best thing they offer, though, is adjustable wager limits.
At SportsBetting.ag, you'll be able to call all the shots when it comes to your wager types. You can learn as you go, or already be an expert pari-mutuel bettor. Either way, you'll be sure to find something that catches your interest at this online horse racing betting site.
Best New Jersey Racebooks - 100% Trusted + Safe
| | | | | |
| --- | --- | --- | --- | --- |
| | | 50% Up To $1,000 | VISA, Bitcoin, Cash Wire | |
| | | 50% New Member Bonus! | VISA, Bitcoin | |
| | | 50% Up To $1,000 | Bitcoin, Wire Xfer, VISA | |
| | | 100% Up To $300 | VISA, Bitcoin | |
| | | 50% Up To $520 | Western Union, VISA | |
| | | 100% Up To $500 | VISA, Bitcoin, Checks | |