East Rutherford Sportsbooks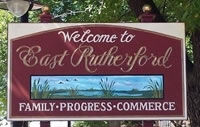 The Meadowlands sportsbook has finally gone live, and though there will be no other physical East Rutherford sportsbooks, this New Jersey venue is absolutely everything a sports bettor in the region needs. Powered by FanDuel and set in a renovated, FanDuel-themed lounge with state-of-the-art wagering portals and a host of comfortable seating and flat screen TVs, many avid gamblers have taken to social media to declare that the Meadowlands Racetrack sportsbook is the best sports wagering product in the entire state!
Of course, the Meadowlands has always been East Rutherford's premier destination for horse racing betting and live sports viewing, as the Meadowlands Sports Complex is home to MetLife Stadium, where both the New York Giants and the New York Jets play their home games. As such, this East Rutherford sportsbook is noteworthy not just for its comprehensive lines and service implementation, but also for the simple fact that it represents the first place in America where sports wagering has been instituted on the grounds of a major US sports team (or, in this case, two of them).
Best New Jersey Sports Betting Sites - 100% Trusted + Safe
Is Sports Betting Currently Legal In East Rutherford, NJ?
Absolutely, yes! Sports betting is currently legal in East Rutherford, NJ, as the Supreme Court overturn of the Professional and Amateur Sports Protection Act (PASPA, 1992) immediately led to New Jersey implementing legal sports wagering inside its borders. The Meadowlands took its first official sports bet on July 14 and has been operating smoothly every day since then. The book is located directly by the entrance and has one of the better setups we have seen in NJ.
The law legalizing New Jersey sports betting, A 4111 was passed by governor Phil Murphy on June 11, 2018, and only a few days later, sports betting was up and running in the state. The Meadowlands sportsbook would take about a month after that to open its doors to the public, but all the Meadowlands sportsbook reviews agree that it was worth the wait.
Legal Minimum Age To Wager At East Rutherford Sportsbooks
The legal minimum age to wager at this East Rutherford sportsbook is 21 years old. That's built into the state law, and no NJ sports betting venue is allowed to accept bets from anyone under 21. Even more so, they will not even let you in the lounge if you are underage.
That said, if you're at least 18 years old, you are able to sign up at any number of first-rate offshore sportsbooks like BetOnline, SportsBetting, MyBookie, BetDSI, and BookMaker. However, we recommend that you adhere to state laws because if you win big you will not be able to collect your prize. The sites can confiscate your winnings and ban you forever should you be in the middle of an underage gambling situation. Before stepping it up to the big leagues at the Meadowlands sportsbook itself, you can use these sites but just wait until you are of age.
Joining and gaming at these sites is 100% legal, too, as they operate overseas outside of both NJ and US jurisdiction, and the existing sports wagering laws make no mention of criminalizing anyone who uses these books to place wagers on their favorite players, teams, and leagues. Even better, these sites are safe to use thanks to their industry-leading encryption and data security protocols, and payouts are always quick, efficient, and guaranteed. Unlike the Meadowlands sportsbook, legal offshore betting sites also accept a wide variety of cryptocurrencies, making the experience even better for those on the cutting edge of economic technology. Also, if you are trying to bet on the Jets, Giants, or any other local team, you will find much better odds with offshore sites due to the fact that the locals have not moved the line (putting all of the money on one side of the bet).
Best Sportsbooks In East Rutherford, New Jersey
Just because the Meadowlands sportsbook is the only venue in East Rutherford accepting sports wagers, don't think they cut corners. The exclusivity of the area made it so that FanDuel didn't disappoint. The partnership and high-profile venue make the sports betting experience widely considered by New Jersey residents and guests to be the best sportsbook for sports betting in New Jersey!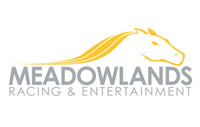 Meadowlands Racetrack

Address:

1 Racetrack Dr. East Rutherford, NJ 07073

Phone:

201-843-2446
The Meadowlands sportsbook reviews coming in really couldn't be better. With their FanDuel partnership, not only does the high-profile Meadowlands betting lounge tick all the boxes for a first-rate wagering experience, but it also promotes the idea that sports betting doesn't need to be behind closed doors. When you walk in, you will be greeted by cashiers on both your right and left and a plethora of seats all throughout the room. A long bar cuts the room in half but you can choose to sit at one of the many comfortable stadium seats that position you in front of HD TVs. Sports are always on the screen, obviously, but the cable package includes events from all over the world not just local teams.
However, there is one drawback to betting on sports at the Meadowlands: the vigorish or house take. When a sportsbook offers wagers to the public, they have to build in their operating costs and profit margins to the wagers themselves, as this is how they are able to stay and business and keep posting bets for the eager public. To do this, most non-straight wager types have an attached moneyline with a standard vig of around 10%. This is represented by a moneyline of -110, which is what you usually see on things like NFL spread bets or MLB runline bets.
Unfortunately, with sportsbooks opening in hugely popular sporting, most of the action will be unbalanced, as the majority of bettors will wager on the home team regardless. This skews a sportsbook's action tremendously, and the problem can only be resolved by increasing the house take on matchups that are forecast to have such lopsided betting for one team over another. This problem exists at all sportsbooks in areas where there is an established sports fandom. Also, New Jersey law states that no action can be taken on collegiate teams that are located in New Jersey, regardless if they are playing in-state, even at Atlantic City Sportsbooks.
Of course, if you wish to avoid paying a local premium on your wagering or want to take a gamble on Princeton or Rutgers, the only solution – again – is to use a legal online, offshore sportsbook like BetOnline et al., as these services take action from all US residents, which naturally balances the wagering on most contests, regardless of who is playing. So, if the high house takes referenced in the Meadowlands sportsbook reviews are bothersome or economically infeasible, just remember that you can always shop lines over the Internet at offshore sports betting sites to find the very best deals on any local contest.