New Senate Bill Slated For Friday Law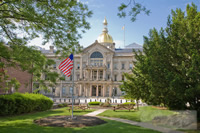 The updated timeline for legalized sports betting in New Jersey – inasmuch as customer-facing sports betting is concerned (as the activity is actually legal in the state right now, it just has no vendors currently licensed under NJ's regulatory scheme) – could be as early as this Saturday, right in time for NJ residents to miss out on NBA Finals Game 4 betting (which is probably going to be the last NBA game of the year).
At any rate, the main thrust is this: NJ legislators are looking at passage of the latest version of their comprehensive regulatory bill, SB 2602, by the end of the week, opening the door for racinos and casinos in the state to have their sports wagering licenses fast-tracked and their betting lounge doors opened by the weekend. And even better? This latest New Jersey sports betting bill includes no integrity fees for sports leagues!
The most noteworthy thing about SB 2602 is that, despite all the NBA and MLB bloviating that's been inundating the sports betting news cycle, NJ's newest law (which seems to have strong bipartisan support) includes zero language granting – or even mentioning – the absurd idea of an "integrity fee." All during the Supreme Court's hearings on PASPA, the leagues have been collectively bargaining (or rather, petitioning) the federal and state governments to pass laws forcing sportsbooks to pay them an integrity fee, a term coined (and idea spearheaded) by the NBA.
Of course, the rationale for the fee rings hollow, and New Jersey, for its part, is having none of it. And that's the correct move, as with sports betting in New Jersey, the leagues themselves have no leverage. Worse (for the leagues), they haven't even so much as floated the notion of an integrity fee to all the books in Nevada that have been offering pro sports wagering for decades, nor do they insist that foreign sportsbooks pay them such a stipend.
The "integrity fee" is PR for "money grab," and while the leagues are doing their due diligence in demanding such, they should not expect to get it. They have plenty of leverage in their own arenas, but they have absolutely no leverage in this one.
NJ lawmakers are nearly unanimous in their contempt for the leagues' integrity fee demand. One lawmaker called the proposal "extortion," while Ralph Caputo (D, Belleville) bluntly set the record straight, saying, "There will not be any integrity fee."
Evidently, the version of the bill that the current legislation replaces included carve-outs for an integrity fee of a massive 2.5% of each bookmaker's revenue up to a total of $7.5 million. However, that language is now completely erased from the proposed law, as Caputo rightly claims that the state "can do our own oversight through the New Jersey Division of Gaming." Let's hope other states flirting with the concept of a strong-armed integrity fee take a page of NJ's book going forward.
New Jersey state assemblypersons are hopeful that SB 2602 will be completed, approved, and on governor Phil Murphy's desk by this Friday, June 8, 2018, where he is expected to sign it into law.
At any rate, the Supreme Court's decision to declare PASPA unconstitutional is a huge step forward – or at the very least offers a tremendous opportunity for New Jersey to cash in on a more broadly legal sports betting industry. Just as before, other states around the country will be watching – though not necessarily waiting – to see what New Jersey can achieve given this newfound freedom. We will keep you posted with all the latest developments for sports betting in New Jersey, but the major takeaway is this: if you want to place bets on your favorite teams, you will not in all likelihood be waiting long before you can do so if you live in the Garden State.
Best New Jersey Sports Betting Sites - 100% Trusted + Safe