New Jersey Legal Sports Betting Proposal Prompts Lawsuit From Major Professional, Amateur Sports Leagues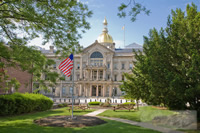 From the state capital of Newark, N.J. comes one of the biggest sports betting stories of the year in America and maybe the world. Five sports leagues, including interscholastic group the National Collegiate Athletic Association and the four biggest sports leagues in America filed a lawsuit in court on August, 7th, declaring that existing plans to provide state-regulated sports gambling within state lines violates existing federal law. The suit took it a step further and more personal, claiming that such gambling would weaken the high moral quality of pro and amateur sporting events. In the light of the Penn State scandal, athletes doping in all pro sports, and cheating controversies in the NBA and at the NCAA level recently, it seems particularly low for these pro clubs to attack New Jersey's pro-sports betting law on moral grounds.
The list of organizations suing the State of New Jersey includes the NBA, the MLB, the NFL, the National Collegiate Athletic Association, and the NHL. Unless settled out of court, a federal trial will occur in Trenton sometime in the next legislative session, likely in 2012.
What sets this lawsuit apart from any other such suit involving the violation of existing federal anti-gaming laws is that the law the suit uses as its basis hasn't even gone into effect or been polished yet. The State of New Jersey is simply considering a proposal that would allow certain types of sports betting online through existing casino properties in Atlantic City. The leagues filing the suit say this consideration alone is in conflict with a rarely-cited and already controversial 1992 federal gambling law. The Protection of Professional and Amateur Sports Act of 1992, restricting all legal wagers on pro and college sporting events to just a few states: Montana, Nevada, Oregon, and Delaware.
What makes this case a real head-slapper is that New Jersey was offered a spot on the acceptable list of states as a fifth legal territory for sports wagering, but didn't pass the bill in the 1993 legislative session, and time ran out on the offer. Had New Jersey jumped on board then, the state's coffers could be overflowing with the estimated hundreds of millions of dollars that would be collected in licensing and taxation alone.
The commotion started in January of 2012 when New Jersey Gov. Chris Christie, who seems to be in favor of online gambling when it is politically expedient and against it when it is so, put his John Hancock on a bill legalizing and regulating bets on sports placed at New Jersey's existing betting properties: a dozen casino-resorts and five racetracks of varying sizes. The bill also includes a line item allowing those casinos to operate heavily-taxed sports gambling Websites. Then, in May, under pressure from the far-right wing of his party, Christie shocked the gambling world by saying he would allow the wagers to be placed without even trying to overturn the 1992 law that clearly makes New Jersey sports betting illegal at the federal level.
What started out as a way to raise funds for a state short on cash has turned into a debate less on the nature of sports gambling than a debate about state's rights versus the rights of the federal government. Christie's opinion of the bill seems to be that the national government doesn't have the right to determine a set number of states allowed to offer bets on sporting events. Christie says there is no legal precedent for this law and it should be struck down as unconstitutional without an official trial. Christie has promised to take his case to the nation's highest court if he must, to prove that 1992 law is outside the realm of the US Constitution.
New Jersey isn't the only state set to challenge that 1992 law that appears to limit state's rights arbitrarily. The State of California's Assembly is meeting as this article is being written to write a bill allowing traditional sports betting within that state's borders, again to shore up a dwindling budget, and Frank LoBindo, a Republican Representative who happens to be from New Jersey, has a law in the works that would allow each US state another window of four years to opt in to legal sports wagers, a seemingly hard-to-pass-up compromise that would allow for states to determine their own course of action and let pro-gambling states open full--fledged gaming sites.
Currently, New Jersey penal code language lets almost all of the state's casinos and racetrack properties to run certain types of sports gambling, like wagering pools. These pools have to pass a tough state licensing and approval process performed by the notoriously tough NJ State Gaming Enforcement and Racing Commission. The State of New Jersey is currently issuing regulations that allow the construction of parlors specifically for betting on sports. It is the release of these licenses which could have triggered the federal law suit. If enough states fight back against what appears to be an unconstitutional bill prohibiting states' rights, online sports betting could start in New Jersey before soon spreading to other states in major need of new tax money, such as Texas, New York, New Mexico, Iowa, and Pennsylvania.
Best New Jersey Sports Betting Sites - 100% Trusted + Safe