New Fantasy Sports Bill Passed In New Jersey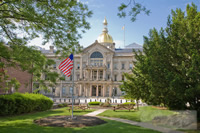 A new bill has been passed in New Jersey that would effectively legalize and regulate fantasy sports gambling sites like DraftKings and Fanduel. This came after a vote on Monday, May 22nd, and the bill will now head to the state Senate.
New Jersey bill A 3532 would regulate the daily fantasy sports betting industry and the results of the first vote could be a good sign for things to come as they passed by a huge margin of 56 to 15. The bill essentially provides regulatory control to the Division of Consumer Affairs in the Department of Law and Public Safety and it is written like most other regulatory bills around the country. It will create a 10.5% tax revenue to the operators of the fantasy sports sites gross within the state of New Jersey and there will be a list of consumer protections in which the operators must abide by.
This isn't the first time that New Jersey has attempted to legalize fantasy sports by the way. In 2015 they tried to pass legislation but it ultimately had no real weight to it and fell through with no serious threat of ever going far.
What's Next For New Jersey?
This news couldn't have come at a better time for sports betting in NJ as they continue to fight the cause for legal sports gambling in the federal court system. They are fighting against all of the top professional sports leagues as well as the NCAA who are arguing that legalized sports gambling goes against the federal law of PASPA.
The Solicitor General is currently reviewing the case after the Supreme Court requested a CVSG and his decision could come by the end of May. Regardless of whether or not the solicitor general suggests that the Supreme Court take the case or not, the final decision will be decided on by SCOTUS. They are expected to have their decision of their intention to hear New Jersey's appeal by summer 2017.
Legal Fantasy Sports Could Help New Jersey Sports Betting Case
New Jersey can use their potential fantasy sports legalization to their advantage in their sports betting push. They can use the laws to push the limits on what is considered "fantasy sports" and provide for a more sports gambling type of product. Before anything happens though, the New Jersey Senate has to pass the bill so only time will tell.
Best New Jersey Sports Betting Sites - 100% Trusted + Safe