Monmouth Park May Not Be Able To Open New Jersey's First Legal Sportsbook By Memorial Day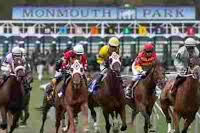 Though much touted here and at other news outlets covering the world of sports betting, New Jersey's Monmouth Park may not actually be able to roll out the first legal sportsbook in the Garden State by May 28.
Just days ago the US Supreme Court issued a majority decision to repeal the Professional and Amateur Sports Protection Act of 1992 (PASPA), which had for more than a quarter of a century banned nearly every state in the country other than Nevada from legalizing sports betting. However, as of May 14, 2018, and by virtue of the SCOTUS member's 6-3 decision, PASPA – which was declared unconstitutional for violating the anticommandeering principle of the 10th Amendment – is no more. New Jersey, which actually took the case to the Supreme Court after passing a law legalizing sports wagering way back in 2014, was angling to be the next state in the nation with sanctioned land-based sportsbooks at its Atlantic City casinos and at racing tracks around the state.
Similarly, internationally famous horse racing track Monmouth Park, located in Oceanport, which has already established a partnership with global sports betting operator William Hill (based in the United Kingdom), was looking to have the first legal sportsbook in the Garden State. The plan was to have the sportsbook up and running at the track within two weeks' time if possible – putting the launch date squarely on the typically busy Memorial Day. However, there may be a snag in that plan that could push the launch of Monmouth Park's sportsbook back a tick, and show runners at the track – and other hopeful sports betting operators around the New Jersey – should take note.
Though the lower house of New Jersey's state legislature had already proposed and passed a regulatory bill, A 3911 (sponsored by Assemblyman Eric Houghtaling) the Senate counterpart unveiled right after the momentous decision by the Supreme Court to kill PASPA is complicating matters. According to the language of the Senate's bill, properly known as S 2602 (sponsored and authored by Senate President Stephen Sweeney), any operator that started offering sports betting services to customers prior to the formal adoption of regulatory legislation would be permanently barred from accepting any future bets.
Basically, that means that the folks at Monmouth Park, and indeed any other operators working to get their sportsbooks up to speed, will have to wait until the state legislature makes up its collective mind about regulatory measures. If they don't abide by that rule, they could be unable to secure a license in the future.
For his part, Sweeney told local media outlets that he was just as eager as everyone else in the state, but he wants would be sportsbook operators and the casinos and horse racing tracks that they have partnered with to wait until the proper regulatory framework is in place. This is not about culling any operator's potential earnings – it is estimated that New Jersey's sports betting market could develop into an industry worth $10 billion in annual handle within just a few years' time – but rather about making sure consumers are protected, Sweeney said.
"We're moving quickly with legislation. I'm hopeful we should be ready by early June. Everyone should respect the legislative process rather than jumping out," Sweeney told local news media representatives Wednesday afternoon. "[New Jersey's congressional delegation] fought for [sports betting legalization] for seven years. I'm anxious to get started just like everyone else."
As for Monmouth Park's people, they are not about to risk losing the opportunity to secure licensure by jumping the gun out the starting gate. Lead gaming operator at the track Dennis Drazin told reporters that he would not challenge the legislature's stance on early start before regulatory measures were locked in, even if he was not aware of that particular provision in the proposed Senate bill itself.
"I have not spoken to the Senate president yet," Drazin said to local media at home in Oceanport. "But I have said all along and I have said to the Senate president that I would go along with the legislative process. So I would comply."
One can empathize with Monmouth Park's position, and with the disappointment the operators there have to be feeling at this news. The NJ Assembly's version of a regulatory solution for sports betting in the Garden State would have allowed sportsbook operators to start accepting action on sports immediately and then retroactively apply for the necessary licensure. However, considering the possible consequences if the Senate's proposed bill was the one accepted by the entire legislature, it also makes a good deal of sense for Drazin and Monmouth Park to hold off until the dust settles.
At any rate, Sweeney has promised to make it a priority for the legislature to solidify its position on regulation for New Jersey's newly minted legal sports betting industry by the end of the Senate's voting session on June 7. On the other hand, the NJ Assembly will vote again as early as May 24.
For what it's worth, lawmakers in both the upper and lower houses of the legislature have reportedly said that the few differences between their respective regulatory bills – differences which amount to the taxable rate for handle taken in by sportsbooks at casinos and race tracks and those that will operate strictly over the internet – are resolvable. Sweeney has gone on record as saying he does not expect there to be a long back and forth battle between the two houses, and that most everyone in the legislature is of the same mind on the core issues at hand.
Nevertheless, lawmakers will have to agree on one finalized sports betting regulatory bill before it can be submitted to Gov. Phil Murphy to sign into law. Here is hoping that Sweeney's prediction that "this is going to move quick" comes true. While the future of legal sports betting in New Jersey is not necessarily going to be riding on a swift outcome, it only seems appropriate for the state that led the fight against PASPA should be the first to reap the rewards of their hard-fought victory.
Best New Jersey Sports Betting Sites - 100% Trusted + Safe