New Bill Would Keep New Jersey Casinos Open During A State Shutdown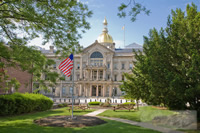 The potential risk that Atlantic City casinos would have to shutter their doors after a government shutdown was enough for NJ lawmakers to start discussing preventative measures.
Casinos in the state were nearly forced to close after the state Legislature was unable to pass a budget by the July 1st deadline. A 2008 law stipulates that casinos can only conduct business for a period of seven days after a budget impasse, and in this situation, the deadlock led to a nearly three-day long government shutdown.
With the threat of casino closures coming to close for comfort, lawmakers quickly introduced a new measure that would ensure operators in the state never have to worry about this kind of risk in the future.
"If the casinos have to close, it would be very tough on them," stated David Rebuck, Director of the New Jersey Division of Gaming Enforcement. "This is a market that's very sensitive to external forces, and we've been on a nice little uptick here. You could lose everything you've gained over the last year in a very short period of time."
NJ S3421/A5126 would guarantee that New Jersey casinos and racetracks would be able to remain open indefinitely in the event of another shutdown. This would not effect online sportsbetting in New Jersey.
The Details Of NJ S3421/A5126
The new bill was introduced on fourth of July by Senator Jim Whelan (D-Atlantic) and three other sponsors- Senate President Stephen Sweeney (D-Gloucester), Senator Jeff Van Drew (D-Cape May), and state Assemblyman Vincent Mazzeo (D-Atlantic).
NJ S3421/A5126 would amend the existing law, which was also sponsored by Whelan after a shutdown that occurred in 2006. The new bill "removes the seven-day calendar limitation" while keeping all else the same in regards to the operation of casinos and racetracks in the event of a state of emergency.
There were also several other bills introduced as a direct result of the budget stalemate and resulting government shutdown. Amid the controversy of Gov. Chris Christie being seen with his family at a beach that was closed due to the shutdown, Assemblyman John Wisniewski introduced two new bills- A5131 and A5132.
A5131 would permit a beach house located in Island Beach State Park to be rented by the general public, and A5132 would prohibit the Governor from using certain state-owned property during a declared state of emergency.
New Jersey Casinos On The Rise
With the state starting to rebound from a three-year rough patch that saw the closure of 5 out of 12 Atlantic City casinos, lawmakers believe that the industry is finally starting to make a rebound.
In May, Atlantic City gaming revenue was up by 4.3% compared to figures from the same period last year. The seven remaining casinos generate more than 1.2 million dollars daily and also provide 50,000 employment opportunities to residents of the state.
"Atlantic City is turning around and to allow the casinos to close now or at any time in the future would be destructive to the lives of the casino workers and their families and would create an economic riptide with negative consequences for the entire city and region," said NJ Sen. Whelan.
Best New Jersey Sports Betting Sites - 100% Trusted + Safe